Harmless to people but deadly to germs, SAO eliminates up to 99.99% of bacteria naturally.
SAO (ozone in its aqueous, stabilized form) is an all-in-one cleaner, disinfectant, and deodorizer. When ozone molecules contact the cell wall of bacteria, it creates tiny holes, a reaction called oxidation. Oxidation is germ-killing. Then, when the job is done, SAO reverts to ordinary oxygen and water again, leaving no impact on the environment.
24 HOURS OF DISINFECTING, 6 DAYS OF CLEANING
tersano's patented SAO solution turns water into a cleaner that lasts up to 24 hours as a certified disinfectant and 6 days as a cleaner, providing unrivalled productivity and performance.
What It Kills
lotus® PRO
Wall-mounted lotus PRO easily fits inside janitors' closets and produces SAO at high-capacity for filling cleaning equipment: spray bottles, mop buckets, carpet extractors, and more. Streamline inventory management and get real-time sustainability data with automated reporting through IoT.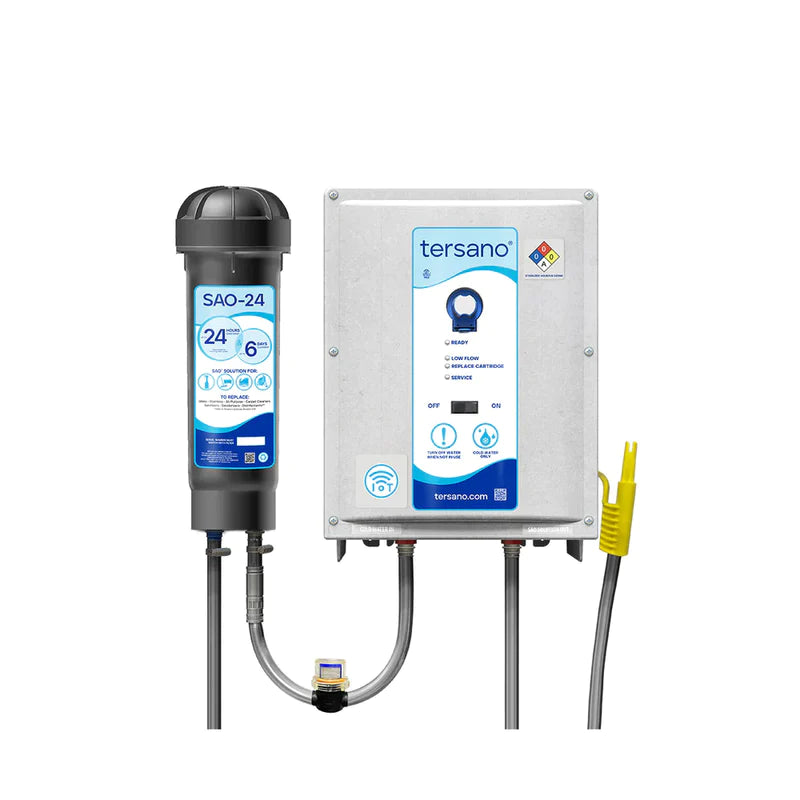 SAO2GO
Lightweight and durable, SAO2GO provides an all-in-one system for janitorial staff, turning tap water into SAO on-the-go and on-demand. Maximize efficiency with continuous runtime, expanded cleaning coverage, and the tools staff need to clean in a portable, compact backpack system.
iClean® mini & iClean® PRO
Ideal for the classroom, iClean mini and iClean PRO convert tap water into SAO at point of use. Spray away germs and odors without exposing your students and staff to harsh chemicals and fragrances.
iClean® FLO₃
Convert water into a chemical-free cleaner in-line and on demand for laundry, ice machines, produce, and more. iClean FLO₃ helps your school save energy costs, optimized to launder best with cold water. iClean FLO₃ maximizes performance and minimizes your school's consumption of wasteful chemical fabric softeners and detergents.
Microfiber Line
tersano's microfiber line simplifies cleaning programs with color-coded edging and machine-washability. tersano's microfiber cloths feature durable microfibers that pick up dust, dirt, and soil. Lasts for up to 500 washes.
iClean® Hands
COMING SOON - iClean Hands turns ordinary tap water into a safe and effective hand sanitizer on-site and on-demand. iClean hands kills up to 99.99% of germs while being 100% alcohol-free, providing safer sanitizing for people, planet, and sensitive skin.
"With our previous products, we had a 9 to 11-minute kill time for bacteria. With tersano's SAO, the dwell time is now one minute with no loss in performance."
— Kenny Bell, Facility Maintenance Director, Colorado Convention Center
"To use an innovative solution like SAO and do it safely, sustainably, and without losing performance is a great success for PwC."
— M. J. Weijers, Project Manager, ISS Facility Services
"We're saving over £25,000 a year in reduced chemical usage and labor hours."
— Anthony Onyeachie, Cleaning Service Manager, Sodexo Energy and Resources